WAKE UP YOUR SENSES…
¡¡Live the experience!!
NATURE, TASTE AND TRADITION



Located in the extraordinary landscape of Villuercas Ibores Jara and surrounded by the unparalleled beauty of environmental wonders, we have carefully crafted OleoExt® Oleotourism for you.Get to know the world of Olive Oil from its origin, the olive grove itself, and enjoy a sustainable, unique tourist experience and in total respect and harmony with the natural environment.
Experience three perspectives and get into the EVOO (Extra Virgin Olive Oils) culture:
1) We welcome you to come discover the differences between the two varieties of olive trees, we use that give meaning to our unique Extra Virgin Olive Oil: Picual and Cornicabra. You will get to know what makes our olives distinct, as well as the characteristics of the trees they grow on, in our picturesque grove.
2) Learn how to differentiate between our Extra Virgin Olive Oils through their unmistakable qualities. Familiarize yourself with the healthy benefits of our "Liquid Gold" as well as it's positive attributes that bring about delectable sensations when tasting them.
3) Come savor the emotional experience of our Extra Virgin Olive Oils through their aromas, flavors, silky textures and memories which come about through simple pairing artistry and culinary applications.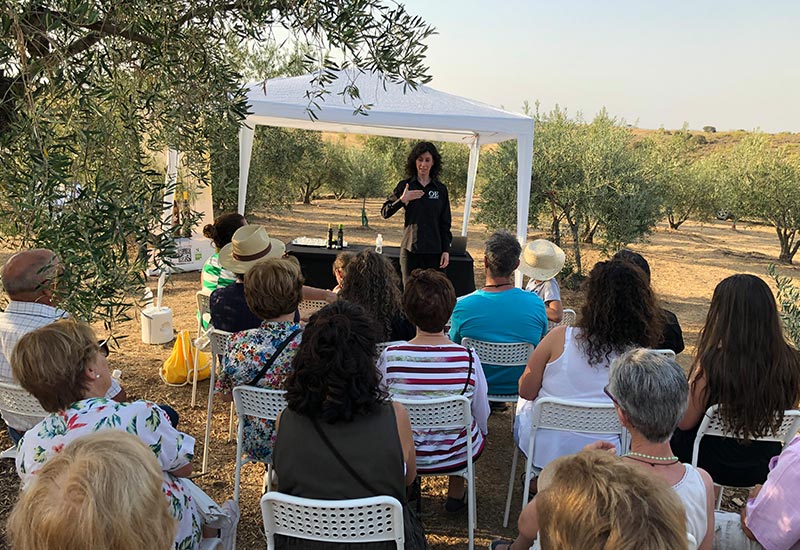 Plans:

We offer two different options:

1) Option 1: Tour + Oil tasting + AOVE gift


At the end of the activity, we will give you a 100 ml glass bottle of Extra Virgin Olive Oil made with olives from the olive grove itself.

Prices:

- Adults: 25€
- Children from 3 to 12 years old: 15€
- Children under 3 years old: Free

2) Option 2: Tour + Olive Oil tasting and pairing class + Premium EVOO bottle


Upgrade your experience in our olive grove in Carrascalejo, in addition to theprevious activity, and you will receive a cooking and pairing class based on EVOO taught by a professional chef. You will learn to make 4 different dishes with olive oil as main protagonist. Extra Virgin Olive Oil finest Glass bottle (500 ml) is included

.

Prices:

- Adults: 50€
- Children from 3 to 12 years old: € 15
- Children under 3 years old: Free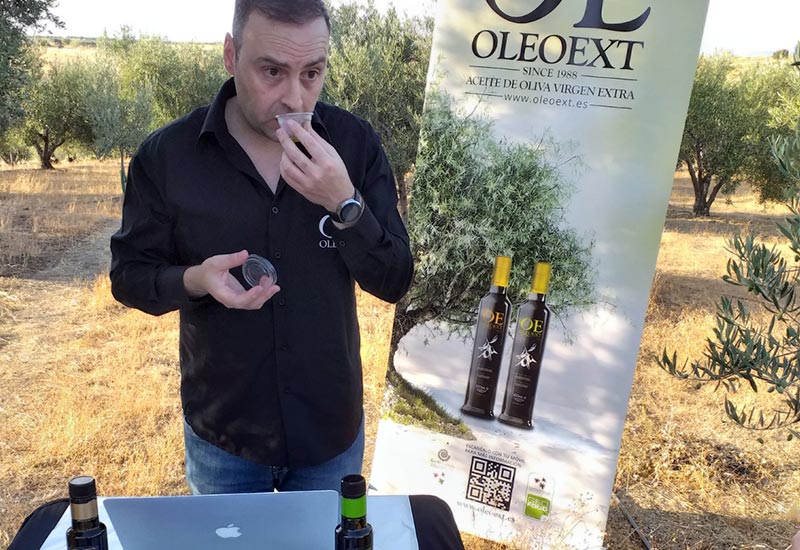 What includes?
- Informative workshop, guided visit to the olive grove, oil tasting workshop.
- Means necessary to carry out the tasting: single-use compostable glasses as well as elements necessary for tasting.
- EVOO OleoExt®.
- Civil liability insurance for each attendee


Meeting point:
Carrascalejo bus stop at the indicated time.


Duration:
2/2:30 hours approximately.
- From 10.00h. to 12.00h (Saturdays and Sundays)*. Autum/Winter season (October till March)
- From 19.00h. to 21.00h (Saturdays)*. Spring/Summer season (April till September)

For other days check here: info@oleoext.es

Book your experience, write an email to info@oleoext.es with this information:
- Desired day to carry out the activity

- Number and type of people (adults, children, etc ...)

- Activity Plan: Option 1 or Option 2

Others:
- If applicable, indicate any type of allergy or intolerance that may be related to the activity before the start.
-

It is recommended to come with appropriate footwear to walk through the olive grove and to wear a cap or hat.


- Minimum grup will be 4

 people.



-

The maximum group will be 15 people.
-

A prior reservation is necessary.
-

We organize events for companies and schools: Check here: info@oleoext.es
- *Subject to weather conditions *